Wanted: Physician Surgeon-Department of Surgery (General/Bariatric Surgery)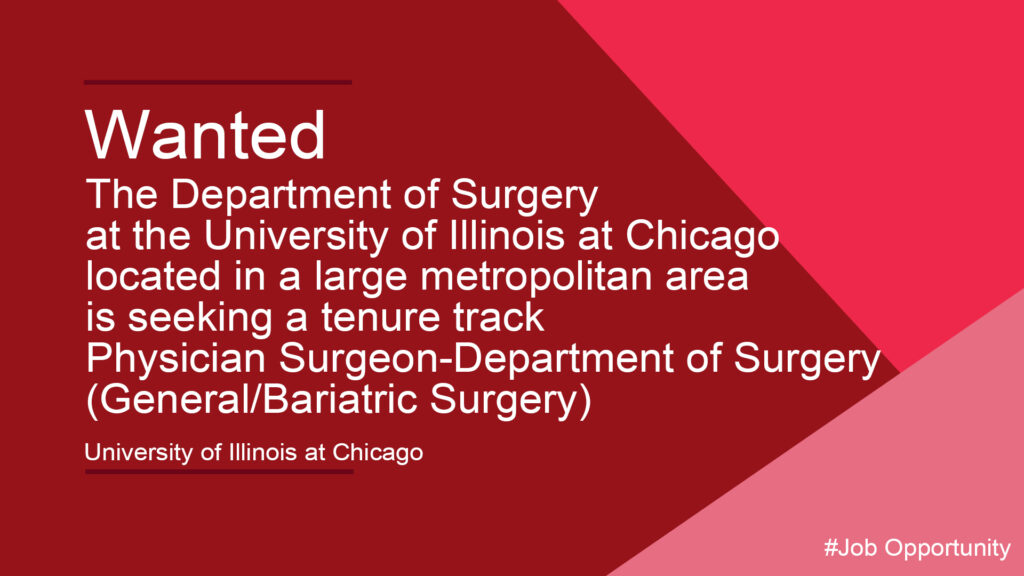 Job Summary:
The Department of Surgery at the University of Illinois Hospital & Health Sciences System, College of Medicine, is seeking a full-time general surgeon to join our university based practice. The Appointment is an Open Ranks/Physician Surgeon in the Division of General, Minimally Invasive & Robotic Surgery. The Open Ranks/Physician Surgeon will assist the department with patient care, clinical activities in the area of general surgery, and teaching.
Duties:
Assist the department with teaching medical students, residents, and fellows in General, Minimally Invasive and Robotic Surgery. The Open Ranks/Physician Surgeon will provide clinical patient care, participate in clinical research, and perform administrative duties as assigned.
Qualifications:
This position requires excellent skills in general surgery, as well as excellent communication skills. This is a large multi-person practice within a university hospital practice, and public hospital practice. Candidates should possess an M.D. with experience in General Surgery. Candidates should also be board eligible or board certified in General Surgery and provide evidence of academic productivity and clinical/laboratory research.  Experience in Bariatric Surgery is preferred.
For full consideration, interested candidates should submit a cover letter, CV, and contact information of three references by September 24, 2021 to https://jobs.uic.edu/job-board/job-details?jobID=150972.
The University of Illinois at Chicago is an affirmative action, equal opportunity employer that has a strong institutional commitment to the principle of diversity and is particularly interested in receiving applications from a broad spectrum of people. We are committed to equal employment opportunities regardless of sex, gender identity, sexual orientation, race, color, religion, national origin, disability, protected Veteran status, age, or any other characteristic protected by law.
The University of Illinois at Chicago (UIC) and the State of Illinois offer competitive wages, benefit programs and resources for employees. UIC is strongly committed to providing equitable benefit options throughout each stage of employment. Many benefits become effective on the first day of employment. Benefits offered by UIC include health care options, wellness programs, educational opportunities, tuition assistance, vacations, holidays and other leave benefits, and University retirement plans. Detailed information on specific employee benefits may be found online at: https://www.hr.uillinois.edu/benefits.
The University of Illinois System requires candidates selected for hire to disclose any documented finding of sexual misconduct or sexual harassment and to authorize inquiries to current and former.