Wanted: Assistant Professor (CT)/Physician Surgeon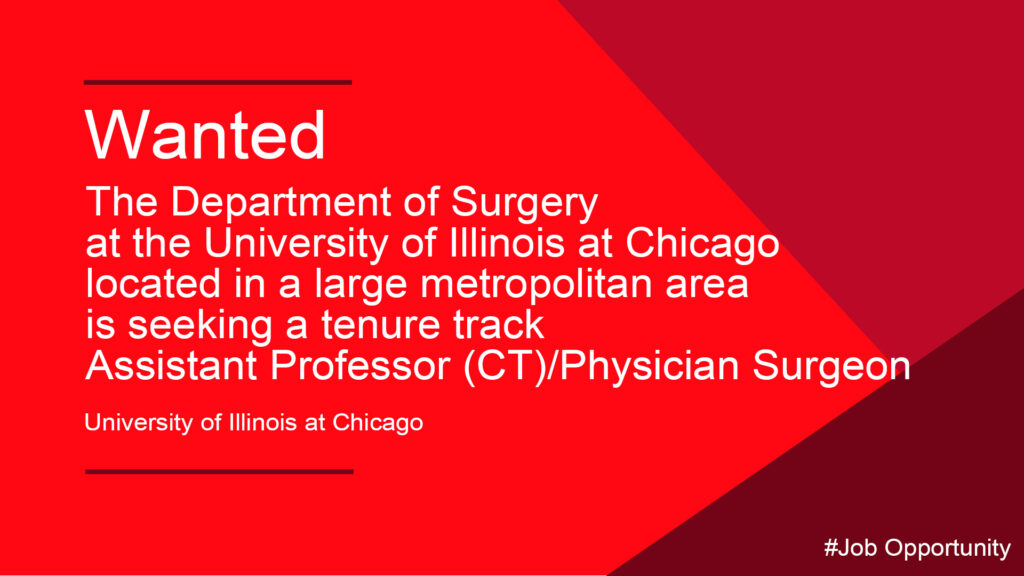 Job Summary: The Department of Surgery at the University of Illinois at Chicago, located in a large metropolitan area, is seeking a tenure track Assistant Professor (CT)/Physician Surgeon
Key Duties/Responsibilities:
The tenure track Assistant Professor (CT)/Physician Surgeon will assist the Department with teaching medical students, residents and fellows in General, Minimally Invasive and Transplantation Surgery. Other duties include providing clinical patient care, participating in clinical research, and performing administrative duties as assigned.
Minimum Qualifications:
Requirements are an MD degree or its foreign equivalent, S years of training in a Surgical Residency program, an Illinois medical license, and Board Certification in Surgery or eligibility for certification. Expertise in robotic surgery as applied to the field of Transplantation will be essential to qualify for the position. Expertise with robotic training in kidney transplant for obese recipients. Travel may be required between healthcare facilities
For full consideration, interested candidates should submit a letter of application and CV by May 31, 2021, to https://jobs.uic.edu/job-board/job-details?jobID=145615
The University of Illinois at Chicago (UIC) and the State of Illinois offer competitive wages, benefit programs and resources for employees. UIC is strongly committed to providing equitable benefit options throughout each stage of employment. Many benefits become effective on the first day of employment. Benefits offered by UIC include health care options, wellness programs, educational opportunities, tuition assistance, vacations, holidays and other leave benefits, and University retirement plans. Detailed information on specific employee benefits may be found online at: https://www.hr.uillinois.edu/benefits.
The University of Illinois conducts background checks on all job candidates upon acceptance of contingent offer of employment. Background checks will be performed in compliance with the Fair Credit Reporting Act.1. The University of Illinois at Chicago is an affirmative action, equal opportunity institution/employer and does not discriminate on the basis of race, color, national origin, sex, religion, age, sexual orientation, gender identity, veteran or disability status, height, weight, or marital status in employment or the provision of services.
The University of Illinois System requires candidates selected for hire to disclose any documented finding of sexual misconduct or sexual harassment and to authorize inquiries to current and former employers regarding findings of sexual misconduct or sexual harassment. For more information, visit https://www.hr.uillinois.edu/cms/One.aspx?portalId=4292&pageId=1411899