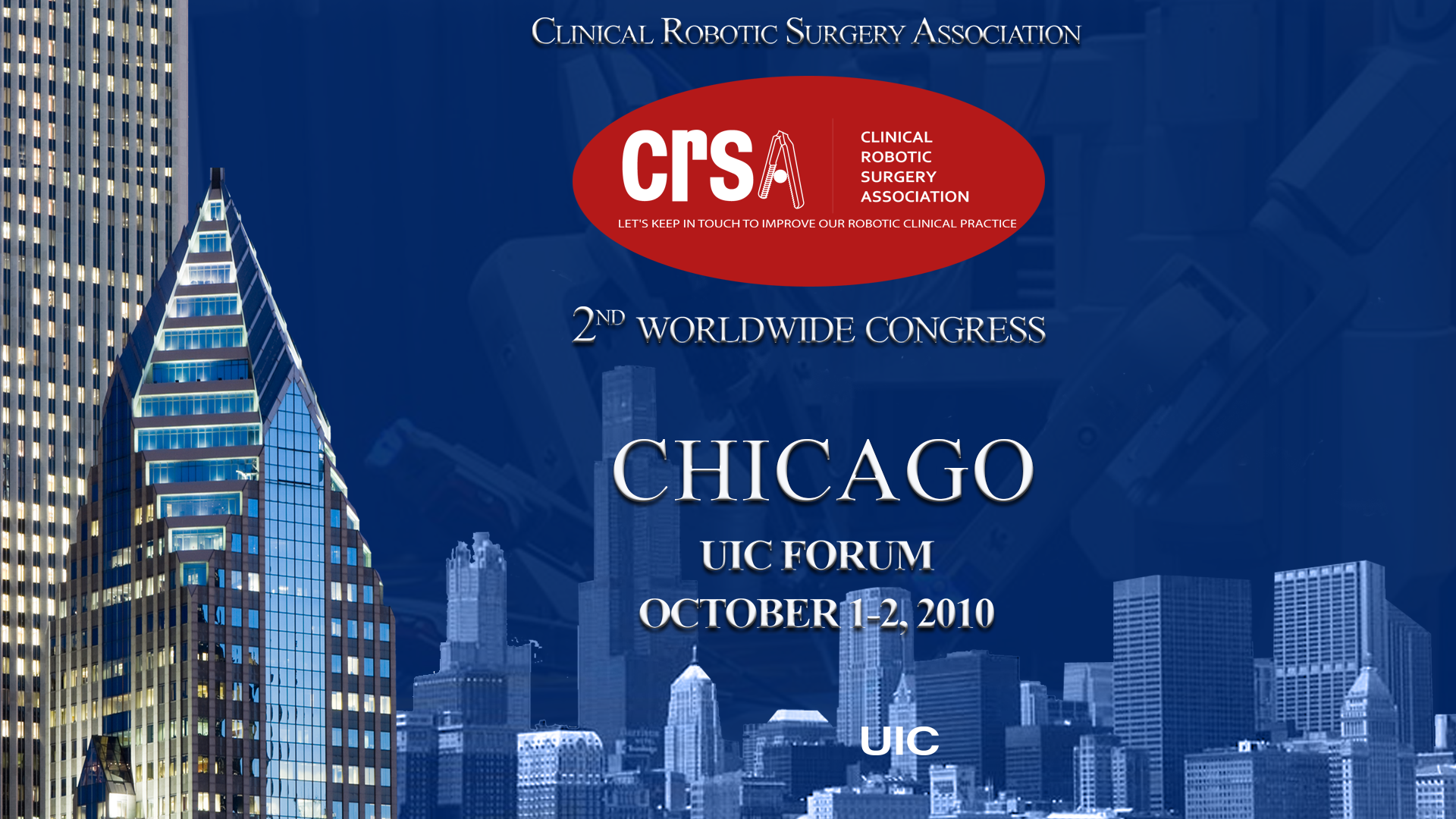 Scientific Organizing Committee
CRSA Board
Pier Cristoforo Giulianotti – President
Woo Jin Hyung – Vice President
Erik Wilson – President Elect
Alessio Pigazzi – Secretary
Mark Dylewski – Executive Member
Miriam Jayne Curet – Executive Member
CRSA Speciality Session
Enrico Benedetti, MD, FACS – Transplant
George J. Chang, MD, MS – Oncology
Woong Youn Chung, MD – Endocrinology
Woo Jin Hyung, MD – Upper GI
Kemp Kernstine, MD, Ph.D – Thoracic
Seon Hahn Kim, MD – Colorectal
Shawn MacKenzie, MD – HPB
Claudio Vicini, MD – ENT
Erik Wilson, MD – Bariatric
Willem Wisselink ,MD – Vascular
Social Event
Signature Room [95th Floor of the John Hancock Center]
Enjoy panoramic views of the City of Chicago and Lake Michigan from the 95th Floor of the John Hancock Center while socializing with your colleagues from the CRSA
Visit the Signature Room website
Congress Venue
UIC Forum
725 West Roosevelt Road
Chicago, IL 60607
Phone: +1 (312) 413-9875
Air travel discount
Book your flight with American Airlines and receive a 5% Discount!!!
The CRSA has negotiated a 5% discount with American Airlines for attendees of the congress in Chicago.
Online ticket reservation can be made at www.AA.com. Enter promotion code: 6290AD
Airline Code for Chicago, O'Hare International is: ORD
[Tickets are valid for travel dates September 28, – October 5, 2010.]
If you intend to fly on to the ACS Congress in Washington, you can still take advantage of the discounts, by calling the AA information desk at 1-800-433-1790
Car rental discount
CRSA members may take advantage of additional discounts with Avis Car Rental.
O'Hare International Location:
10000 Bessie Coleman Drive
Chicago, IL, 60666
Phone: (1) 773-825-4600
Cellular phones
Cellular phones must be switched off during all sessions.
Certificate of Attendance
A Certificate of Attendance for the 2nd international congress C.R.S.A. 2010 can be collected at the registration desk on the last day of the meeting.
Congress bags
Each delegate will receive a congress bag which includes an abstract/program book.
Hotel accommodation
For more information and online booking of your preferred room please click here.
Insurance
The organizers are not responsible for any personal damage. Participants are strongly recommended to arrange their own personal insurance.
Language
All presentations during the meeting will be conducted in English. There will be no translation.
Registration
For more information about registration click here.
Smoking policy
Smoking is prohibited inside the congress centre.
Speaker Service Centre
Only digital presentations will be accepted during the meeting and all presentations should be handed in at the Speaker Service Centre at least two hours prior to the start of the session.