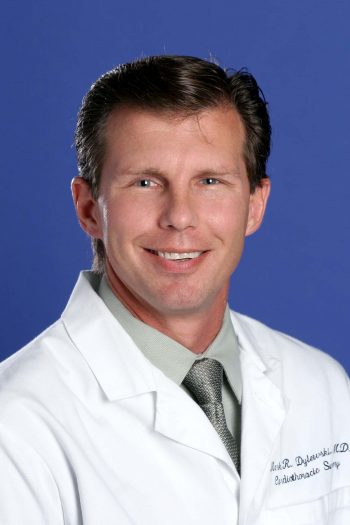 Mark Dylewski, MD
Miami, USA
Mark Dylewski, M.D.
Medical Director of Robotic and General Thoracic Surgery, Baptist Health of South Florida, Miami, Florida
Dr. Dylewski received his medical degree from the University of Miami and completed his training in General Surgery and Cardiothoracic Surgery at UC-Davis East-Bay in California and Albany Medical Center in New York. In 2001, he accepted the position of Assistant Director of Thoracic Surgery at Washington Hospital Center and Assistant Professor of Thoracic Surgery at Georgetown University Hospital in Washington D.C.
In 2004, Dr. Dylewski entered private practice to establish The Institute for Thoracic Surgery in Miami, Florida and to focus on the delivery of comprehensive minimally-invasive surgery and multi-disciplinary treatment of benign and malignant diseases of the chest. At Baptist Health of South Florida, Dr. Dylewski pioneered the Robotic Thoracic Surgery Program and introduced innovative techniques in total endoscopic lung and esophageal resection.
He served as a principle clinical educator in Thoracic Robotic Surgery for Intuitive Surgical, Inc and has contributed to research focused on new applications of robotic surgery and multiple publications in General and Thoracic Surgery.