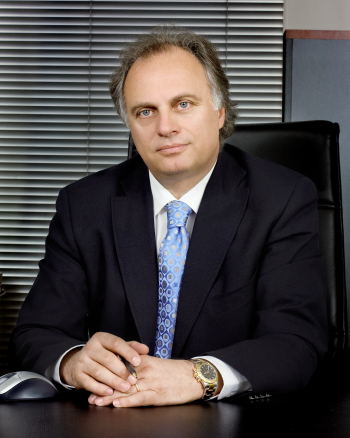 Konstantinos Konstantinidis, MD, PhD, FACS
Athens, Greece
Konstantinidis, K. Athens, Greece
Director of General, Laparoscopic, Bariatric & Robotic Surgery Department, Athens Medical Center, Greece, President of Hellenic Scientific Society of Robotic Surgery, President of Southeastern European Robotic Scientific Society
Dr. Konstantinidis holds a degree in Medicine from Aristotle University of Thessaloniki, Greece, and a medical doctorate and PhD from Democritus University of Thrace, Greece.
He completed his surgical residency at Riverside Methodist Hospital, Columbus, Ohio, USA. He is certified by the American Board of Surgery. He later pursued training in laparoscopic, bariatric and robotic surgery as well as single site robotic surgery at Strasbourg. His clinical interests include advanced laparoscopic and robotic procedures:
Esophageal (Gerd,Diaphragmatic & Paraesophageal Hernia, Achalasia, Cancer).
Gastric (Ulcer, Benign and Malignant Tumors, etc).
Gallbladder and Common Bile Duct surgery.
Small Bowel surgery (enterectomy, bypass, ileus, adhesions, etc.).
Colorectal (Colectomies: Right, Transverse, Left, Low Anterior, Abdominoperineal, Rectal prolapse, etc.).
Splenectomy, Adrenalectomy.
Obesity Surgery (Gastric Bypass, LAPBAND, Sleeve Gastrectomy).
Hernia Surgery(Inguinal,Ventral,etc.).
Appendectomy,Liver Surgery(RFA for cancer,simple cysts, echinococcus cysts, partial hepatectomies etc.).
Gynecologic Surgery: (Hysterectomy, Ovarian Cysts, Endometriosis, Pelvic pain, Uterine Fibroids, Adhesions, Pelvic lymphadenectomy, etc).
Peritoneal dialysis catheter placement.
OPEN SURGERY: Major Abdominal Trauma & Cancer Surgery.
Hemorrhoid Surgery (Laser, THD, Longo technique) Pilonidal cysts.
Thyroid, Parathyroid, Breast, Adrenal, Pancreatic surgery. His research focuses on new applications of robotic surgery and on clinical outcomes and proctoring robotic surgery to young surgeons from universities.
Languages spoken: English, Greek