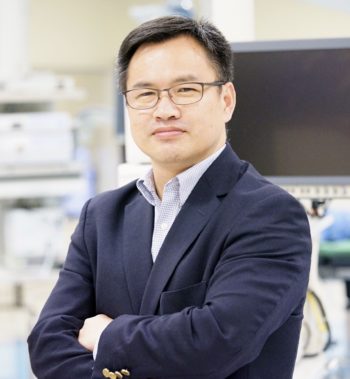 Chung-Ngai Tang, MD
Honk Kong, China
Chung-Ngai Tang
Chief of Hepatobiliary Surgery, Consultant Surgeon, Chief of Service, Department of Surgery
Director of Minimal Access Surgery Training Centre (MASTC)
Director of Hong Kong East Cluster Training Centre of Healthcare Management & Clinical Technology
Deputy Hospital Chief Executive
Clinical Surgical Stream Coordinator,  Hong Kong East Cluster
Dr. CN Tang graduated from the medical school of the University of Hong Kong in 1989 and received both basic and advanced surgical training in Hong Kong. He had his overseas attachment to the Ninewells Hospital and the Royal Infirmary of Edinburgh for the training in Laparoscopic & Hepatobiliary Surgery in 1997. Later in the same year, he was admitted as a fellow to the Hong Kong Academy of Medicine. Since his appointment as Consultant Surgeon and Chief of Hepatobiliary Surgery in 2006, he has endeavored to attain maximum levels of professional excellence in patient care. As a senior member of the department, he has been proactive and positive in facilitating innovative changes in the department structure and activities.
He is the first qualified Robotic General Surgeon in Hong Kong and he has performed more than 700 cases of Robotic HPB surgery since 2009 and many of them are the first in Hong Kong. Through his active participation in various clinical projects over the years, he has delivered more than 200 invited lectures and published more than 100 papers in peer-reviewed journals and also contributed to book chapters, mainly on the topic of laparoscopic and endoscopic approach in the management of hepatobiliary diseases.
He serves as Editorial Board of  the World Journal of Gastrointestinal Surgery and Chinese Journal of Current Clinical Medicine, and is also an expert reviewer in more than 15 international journals since 2005. As the Co-director of Minimal Access Surgery Training Centre (MASTC), he is committed to deliver a high standard of Minimal Access Surgery training and has accumulated lots of experience in medical administration through the organization of various training workshops for doctors and nurses.
The wide exposures towards professional service development and surgical training have adequately equipped him to take up the challenging position of Chief of Service (Surgery) since January 2012. With his passion towards the sustainability of quality and safety improvement in health care and his strong capabilities in clinical management, he was also appointed as Deputy Hospital Chief Executive since July 2011.