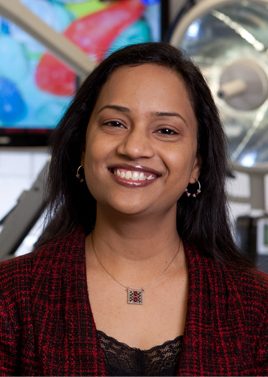 Subhashini Ayloo, MD
Chicago, USA
S. Ayloo, MD (Chicago, USA)
Assistant Professor of Surgery, Division of General Minimally Invasive andRobotic Surgery, Department of Surgery at Universiti of Illinois at Chicago.
Dr. Ayloo holds a baccalaureate degree in Biochemistry from University of Illinois at Chicago and a medical doctorate from Chicago Medical School. She completed her General Surgery residency from Chicago Medical School/Rosalind Franklin School of Health Sciences.
She later pursued fellowship training in Minimally Invasive Surgery at UpstateMedical University, Syracuse, New York with emphasis in foregut, solid organand bariatric surgery.
Dr. Ayloo has been a faculty at University of Illinois Chicago since 2005 and her clinical and research interest includes minimally invaisive surgery forforegut and bariatrics.