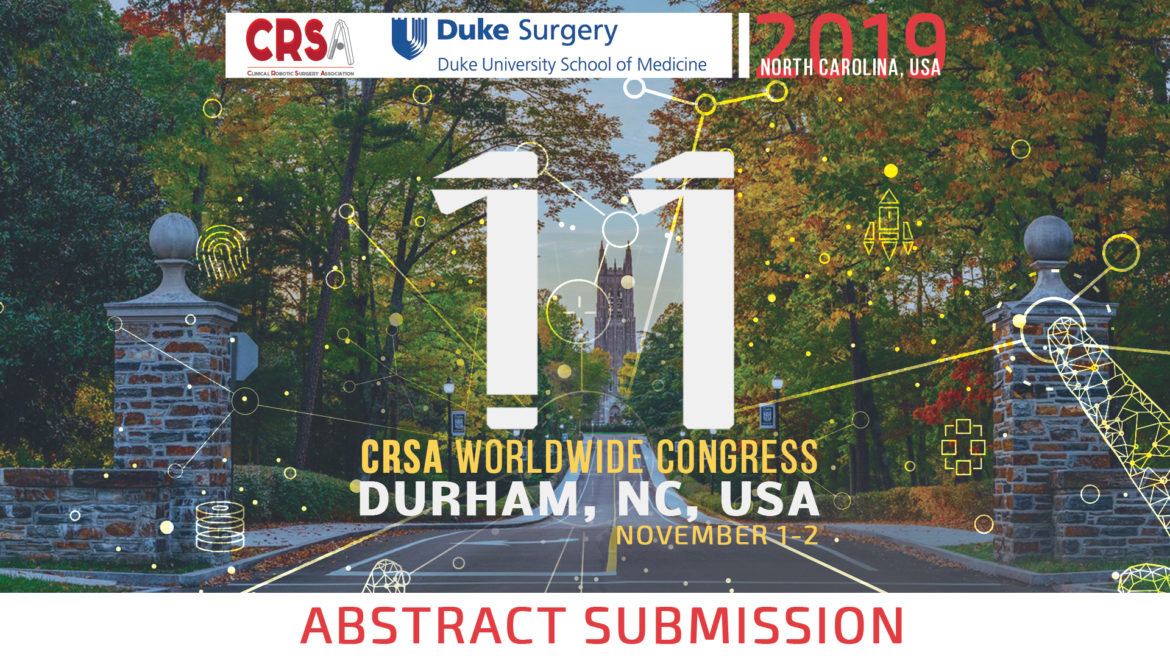 Welcome to the Abstract Submission System



 CRSA 2019 Worldwide Congress, Durham NC, USA - November 1 – 2, 2019

We are pleased to inform you that this year all accepted abstracts to the CRSA congress will be published on a dedicated supplement of the International Journal of Medical Robotics and Computer Assisted Sciences (JMRCAS).

This is a fantastic opportunity to give your work the resonance it deserves on a specialized robotic surgery peer-reviewed, indexed journal.

Please type in your abstract according to Guidelines for submission:
The abstract format must be 'Background, Methods, Results, Conclusions'
Number of words must be limited to 300
The abstract must be written in a clear English language
Research topic must be original and not previously published or presented to any other national or international meeting.
Any abstracts of previously published papers will not be published
First author must be the one presenting at the conference;

Categories
Bariatric, Complex Cases, Colo-rectal, Endocrine, Hernia, Biliary, Liver, Pancreas, Technological Innovation, Pediatric
Single Site, Cardio-Thoracic, Simulation-Training & Credentialing, Transplant, Upper GI, Vascular, Organization/Management

Deadlines
Please feel free to check, amend or submit another abstract on or before  July, 31st 2019.
Notifications of abstract outcomes will be provided on August, 15th, 2019
Deadline for registration of abstract presentation: August, 30th, 2019

The Committee will peer-review all submitted abstracts. Notification regarding abstract acceptance will be sent to the submitting author.

The 'call for abstract' is now open so please submit your abstract on the link below.
We look forward to meeting you in Durham!